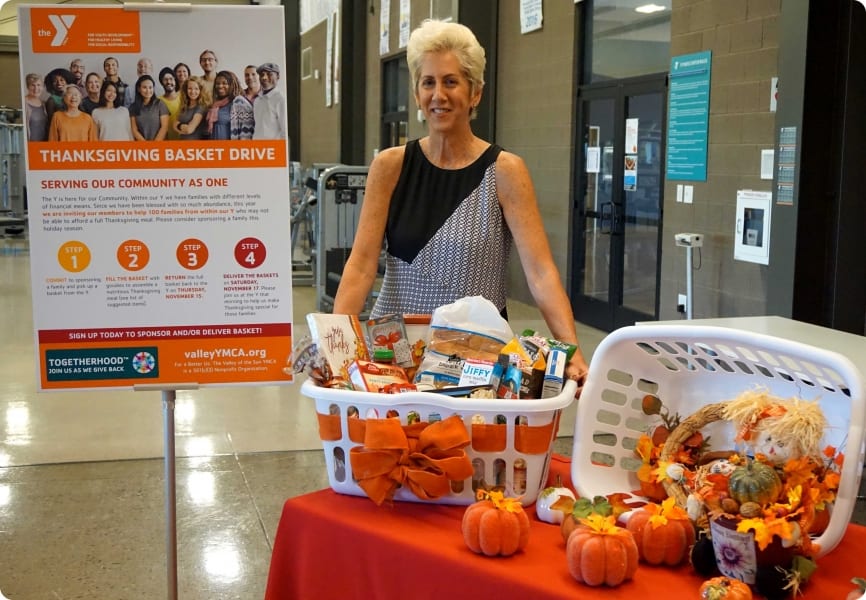 When Debbie Zufan relocated to Arizona from Illinois three years ago, she found herself feeling a little isolated. She landed a great job in central Phoenix but lived in the Northwest Valley and felt disconnected from her community.
Then an executive coach she was working with, who also happened to be a member of the Tempe Family YMCA advisory board, suggested she consider joining the board of the Northwest Valley Y in El Mirage.
"It was a privilege to be considered for this opportunity, and I was just thrilled to get introduced to the Y," says Zufan.
Not only did Zufan join the Y board but she also volunteered to chair the social responsibility committee. In that role, Zufan engages volunteers, community leaders and others in sustaining and promoting the YMCA cause through advocacy, fundraising and outreach efforts.
Her career as a special educator, now teaching in the Dysart Unified School District in the Northwest Valley, gives her a natural outlet for promoting the Y while also supporting her students.
"I'm always looking for ways to involve my students in after-school and extracurricular activities," says Zufan. "So any time I talk to other teachers or go into classrooms, I always mention the wonderful programs here at the Y. Because this Y is relatively new and a little bit off the beaten path, many people don't know it's here."
Recently Zufan involved the entire school district in one of the Y's social responsibility projects—a Thanksgiving basket drive launched this year at all branches of the Valley of the Sun YMCA Association. It is part of Togetherhood, the YMCA's member-led volunteer-service program.
A Gift of Thanksgiving Bounty
For the basket drive, YMCA members and others in the community volunteer to fill a basket with all the makings for a Thanksgiving meal. On Saturday, Nov. 17, volunteers will deliver the baskets to Y member families and others in need.
"The initial response within the school district was overwhelming," says Zufan. "It's not a hard sell because the staff and teachers and administrators at every school truly love the students and their families. It's a welcome opportunity for them, to be aware of this project."
Zufan identified families who might be receptive to the baskets based on comments from the students she teaches. She specializes in working with students with visual impairments.
"I spend a significant amount of one-on-one time with my students, and I get to hear a lot of their stories" she says. "Some students report things like, 'I couldn't do this because I didn't have shoes' or 'I had to sleep in another room because my bed broke.' It just tugs at your heart and puts them on your radar."
When she approached the students' parents about the basket drive, she was careful to be sensitive to their feelings.
"I presented it by saying, 'Your child is amazing, and he or she shares wonderful things about your family. It sounds like there might be times when things are tough. Would you be willing to accept a gift of some Thanksgiving bounty?' relates Zufan. "And you know, they respond with gratitude—'Yes, thank you so much; we would love that.'"
Benefits All Around
The impetus for Togetherhood is that everyone involved benefits. The recipients benefit from the donation directly. The donors gain from the act of volunteering, which has proven wellness benefits including improved mood, self-esteem and sense of purpose.
The community as a whole benefits as well. A culture of volunteerism can yield positive results such as lower unemployment, greater income equality, and youth who are more likely to stay in school and avoid risky behaviors.
Zufan is looking forward to personally delivering her Thanksgiving baskets on Saturday and reaping some of those volunteering rewards.
"Part of the project is to physically deliver to the families to promote that connection," she says. "It helps me, or the person delivering, to actually see the family, to see the smile on their faces and to know you've made a positive impact."
Beyond this Togetherhood project, Zufan says she can personally attest to the benefits of volunteering on the board of the Y too.
"I feel a stronger connection to the community," she says. "I've met community partners and board members who I wouldn't have crossed paths with otherwise.
"It feels more and more like the Y is part of my family. I'm really feeling the mission."