Not many people can truthfully boast of beating Michael Phelps in a swimming competition. But the senior aquatics director at the Southwest Valley YMCA can.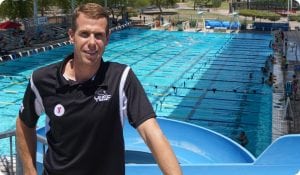 Darian Townsend won an Olympic gold medal in 2004 as part of the South African 4×100 meter freestyle relay team. The U.S. team, which included Phelps, took bronze.
Then at the 2009 World Cup, Townsend broke the world record in the 200 individual medley in a head-to-head race against Phelps.
"Breaking the world record, first of all, is huge," says Townsend. "You're the fastest person in that event in the history of the sport. It's something I always wanted to do.
"Being able to do it against Michael Phelps in the same race was really special. I feel privileged that I got to swim with him."
After the 2004 Olympics, Townsend moved to the U.S. to study and swim, first at the University of Florida and then at the University of Arizona. He led Arizona to its only team national championship in men's swimming and diving, in 2008.
After college, Townsend swam professionally. He moved to the Valley in 2014 and became a U.S. citizen.
Last year, Townsend retired from his professional swimming career and started a new career with the YMCA. Now, he is training potential future Olympians and ensuring that all swimmers at the Southwest Valley Y have a safe experience in the water.
"It's been a great transition into the working life for me, being part of the Y," says Townsend. "I'm very proud to be a Y employee, and I look forward to many years here with the Y."
Swimming and Life Lessons
In his role as senior aquatics director, Townsend's job is to oversee operations of both the Olympic-size pool and the recreational pool at the Southwest Valley Y in Goodyear. That includes lifeguard training and staffing, swim lesson curriculum and instruction, plus community education about water safety.
"Training the next generation of swimmers is my big passion now," says Townsend. "And I'm having a lot of fun doing that."
In addition to being aquatics director, the former Olympian is head coach of the Southwest Valley Y's competitive swim team, the Westside Silver Fins. He has identified a number of swimmers on that team with lots of talent and great potential.
Even if his swimmers don't ever earn an NCAA championship or an Olympic medal, Townsend says swimming still has important life lessons to teach, like the importance of determination, discipline and heart. And learning how to reset and try again when you fall short of your goals.
The objective at the top of Townsend's resume sums it up this way: "To develop champions in life through excellence in the swimming pool."
"I think if the kids I'm coaching can learn those lessons, they can be whatever they want to be in life," Townsend says. "I'm just grateful that I was part of a sport that taught me all those lessons growing up."