We know that lasting personal and social change comes about when we all work together. That's why at the Y, strengthening community is our cause. Every day, we work side-by-side with our neighbors to make sure that everyone, regardless of age, income or background, has the opportunity to learn, grow and thrive.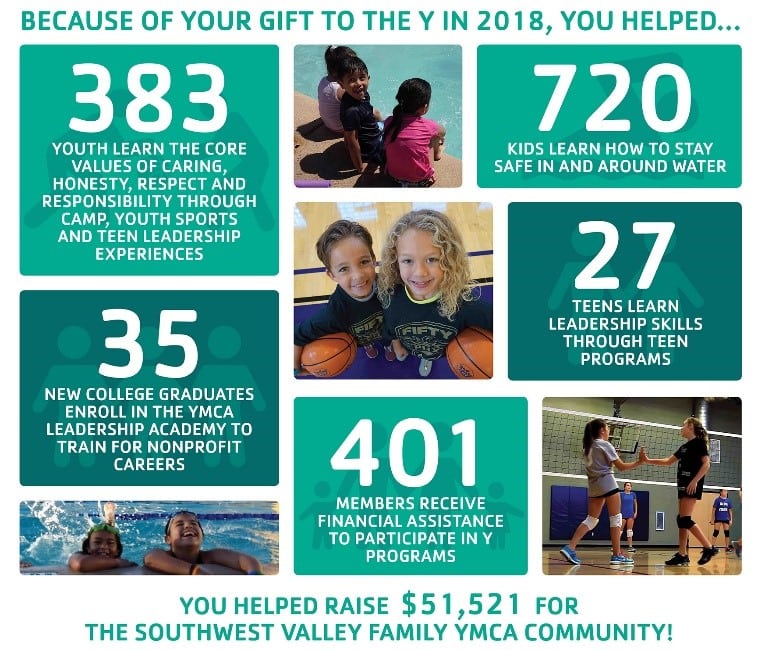 Donate
OUR COMMITMENT
Stronger families mean lower child poverty, better health outcomes and higher family income.
Together we can provide financial assistance to ensure more than 550 individuals and families have access to facilities and programs that deepen the bond between parent and child.
When children learn values, it helps them bridge the gap from childhood to adolescence.
Together we can teach character development to 450 children, teens, adaptive youth and committed adult volunteers, in programs such as youth sports, after school care, camping and teen leadership.
In Arizona, drowning is the leading cause of accidental death for children under five.
Together we can help 1,000 youth and families learn the crucial skills of safety around water and swimming, and reinforce the ABCs (Adult supervision, Barriers and CPR classes).
In Arizona, one in seven people ages 16-24 are unemployed and not in school. They are more likely to have worsening health and rely on government support.
Together we can help 30 opportunity youth gain skills and confidence, preparing them to enter the workforce.
A consensus among local executives and thought leaders is that we need more well-trained young people in the workforce.
Together we can train 30 college grads to be cause-driven leaders through YMCA Leadership Academy, igniting their passion and transforming them into catalysts of change.
The ongoing support our community provides through the Annual Campaign allows the Y to achieve its mission. The Southwest Valley Family YMCA is stepping up and stepping in to meet our community's challenges and strengthen us for the future. The campaign's goal of $55,000 will leverage funds to provide our community members with the support they need to thrive. Together we can build a better us!
Every gift matters.
Everyone has a role to play.
Together, we can achieve so much more.
The Y. Together We Can.