OUR FITNESS CLASSES ARE PART OF YOUR MEMBERSHIP! THEY ARE AN INTEGRAL PART OF MANY PEOPLE'S HEALTHY LIFESTYLES.
Because we know that healthy lifestyles are achieved through nurturing mind, body, and spirit, well-being, and fitness at the Y is so much more than just working out. Beyond fitness facilities, we provide educational programs to promote healthier decisions and offer a variety of programs that support physical, intellectual, and spiritual strength.
Group Fitness is one of many ways the Y helps support members to achieve their health and wellness goals. We offer classes for all ages, all levels, and all interests that provide motivation, and friendships plus a great workout — from low-impact exercise and chair classes, stretching, and strength training to indoor cycling, water exercise, and yoga, you'll find a group class that's fun, supportive and keeps you moving. Check out our variety of classes today!
---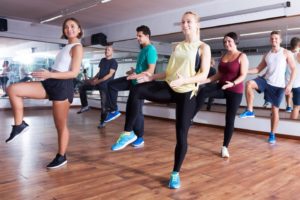 DANCE CLASSES & ZUMBA Group Fitness
Join our fun dance type classes to stay fit and reach your fitness goals. These inspired workouts are easy to follow and let you naturally move to the beat of the music.
---
FULL BODY STRENGTH WORKOUTS
Build strength, endurance, and flexibility in our strength and conditioning classes like BODYPUMP and Boot Camp type classes. Plus try some of our special Ab class add-ons to get even more defined.
---
CYCLING
Indoor cycling workouts incorporate visual imagery, verbal cues, and high-intensity energy zones. All fitness levels welcome as cyclists work at their own level.
---
CIRCUIT & CARDIO TRAINING
Get your heart rate up and burn some calories in our circuit training & cardio classes that feature HIIT, Tabata, and other interval-style workouts.
---
YOGA & PILATES
Find your center in our mind-body classes like Yoga and Barre. Exercises can be high intensity and low impact or calming and relaxing with a nice stretch, find the perfect class to meet your exercise needs.
---
WATER FITNESS CLASSES
Get fit in the pool! Participate in water workouts that will challenge your entire body. These are a great way to gain muscle conditioning and increase cardiovascular endurance without putting stress on the joints.
---
YOUTH FRIENDLY CLASSES
Build your child's confidence! The Y offers a small number of group classes for youth to attend, both with their families and as they grow older.
---